SNA of South Carolina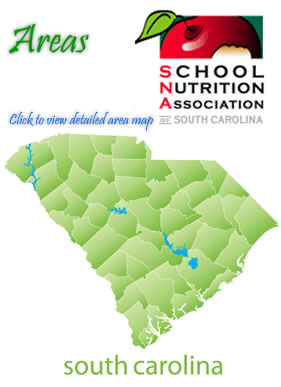 Areas and Area Representatives

Regions

South Carolina is divided into 5 main Regional Areas based on geography.
Areas and Representatives

Areas provide members with local opportunities for approved training, meetings, networking opportunities, and fundraising for registration to SNASC events and local scholarships.
Area may also be involved in community outreach opportunities to members. Area leaders serve on the Executive Board. They also serve on committees for membership, education, events and public policy legislation. Click map above to view detailed Area Breakdown
Piedmont Area
Sand Hills Area
Pee Dee Area
Coastal Area
Columbia Area
Abbeville
McCormick
Chester
Dillon 01
Allendale
Calhoun
Aiken
Newberry
Chesterfield
Dillon 02

Bamberg 01

Clarendon 01
Anderson 01
Oconee
Darlington
Dillon 03
Bamberg 02
Clarendon 02
Anderson 02
Pickens
Fairfield
Florence 01
Barnwell 19
Clarendon 03
Anderson 03
Saluda
Kershaw
Florence 02
Barnwell 29
Lexington 01
Anderson 04
Spartanburg 01
Lancaster
Florence 03
Barnwell 45
Lexington 02
Anderson 05
Spartanburg 02
Lee
Florence 04
Beaufort
Lexington 03
Cherokee
Spartanburg 03
York 01
Florence 05
Berkeley
Lexington 04
Edgefield
Spartanburg 04
York 02
Georgetown
Charleston
Lexington 05
Greenville
Spartanburg 05
York 03
Horry
Colleton
Orangeburg 01
Greenwood 50
Spartanburg 06
York 04
Marion
Dorchester 02
Orangeburg 02
Greenwood 51
Spartanburg 07
Marlboro
Dorchester 04
Orangeburg 03
Greenwood 52
Union
Williamsburg
Hampton 01
Richland 01
Laurens 55
Hampton 02
Richland 02
Laurens 56
Jasper
Sumter
Areas President's Goals
Conduct a Area Planning Meeting to set goals for the academic year.
Contact your Regional representative to arrange a visit to one of your chapter meetings.

Set goals that are realistic and attainable.
Set your meeting dates and programs.
Communicate the schedule to every member.

Participate in the Fall and Spring Membership Campaign and encourage new members to join.
Promote SNASC and SNA Awards by nominating a deserving member of your area.
At each meeting, collect change from the members for SNA's School Nutrition Foundation. The Foundation offers continue education scholarships and grants for School Nutrition Employees and their children who are going into the school nutrition field.
Write an article for SNASC publication or for the SNASC webpage on what your chapter is doing.
Plan and conduct at least two meetings that meet requirements for continuing education credits for certified members.
Promote SNASC/SNA by encouraging all members to vote in the annual elections.
Attend at least one SNASC Professional Development opportunity.
Promote SNASC/SNA Legislation efforts by personally writing legislator representatives or invite your legislators to attend lunch in your district.
Provide information to your Regional representative when contacted for news to report at an SNASC Board meeting.