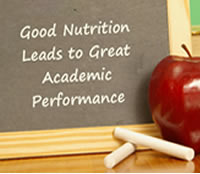 Nutrition is for Everyone
Proper nutrition in the school age years can reinforce lifelong eating habits that contribute to a student's overall well being. This will help them to grow and learn to their fullest potential... and then go on to lead a long healthy life.

Nutrition for Students is Fun!
A student's body needs nutritious foods to grow and stay healthy, so make sure teach them how to take care of your body by eating the right food and getting plenty of exercise. Whether they are grabbing breakfast before school or choosing a snack after sports practice, these early years is time to start helping them learn to make healthy choices. A student's body and brain need healthy fuel to perform, to learn, to grow, and to ward off illness and disease. Eating right will help them to look better, feel better and do better in school and at play.
Nutrition for Teachers
Students must be healthy to learn...
but they also need to learn to be healthy.
We encourage and support health and nutrition education in the classroom. Teaching nutrition to students will help them to grow and learn to their fullest potential and we believe it is the key to promoting lifelong health and wellness. Nutrition Education establishes the basic skills for making healthy eating and lifestyle choices that will carry them into adulthood.
Nutrition for Parents
Did you know...this generation of young people is the first that is forecast to have a shorter life expectancy than their parents? 1 in 3 or 4 children born in the year 2000 will develop diabetes at some point in their lifetime. The prevalence of overweight kids among 6 to 11 year olds has doubled in the past 20 years and tripled for teens.
What are we doing about it? Each district that participates in the National School Lunch Program is following strict national and state nutrition guidelines, and provides nutritious lunches that contain one-third of the recommended dietary allowance of nutrients. Utah districts adhere to the recommended USDA dietary guidelines from MyPlate. This new Food Guide focuses on nutrition and fitness, because the two go hand in hand. It is designed to help kids and parents to not only understand the guidelines but to also provide practical advice on how to provide healthy and balanced diet. Recommendations are tailored for kids based on age, gender, and exercise habits. And, our district has also developed a comprehensive school wellness policy and upholds the USDA's Federally Mandated Nutritional Value requirements, which defines the nutrition guidelines for school meals.
For parents, this program offers a convenient method of providing a nutritionally balanced lunch at the lowest possible price. For schools, the program enhances children's learning abilities by contributing to their physical and mental well being. Studies have shown that children whose nutritional needs are met have fewer attendance and discipline problems and are more attentive in class.
Please go to this website for more nutrition education information: www.eatright.org