Certified Grown in South Carolina Grant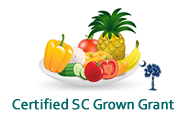 Hey!!!!!!!!! Click here to see our Grant Status Report.....
The School Nutrition Association of South Carolina receives grant to increase local foods in school cafeterias
Congratulations to our 15 schools who were awarded grants
Anderson 05
Calhoun Academy of the Arts
North Pointe Elementary
Bamberg 02
Denmark-Olar Elementary
Florence 04
Brokington Elementary
Greenwood 50
Woodfields Elementary
Hodges Elementary
Lakeview Elementary
Kershaw
Midway Elementary
Newberry
Prosperity Rikard Elementary
Spartanburg 03
Clifdale Elementary
Cowpens Elementary
Spartanburg 05
Lyman Elementary
Spartanburg 06
Fairforest Elementary
Jesse Bobo Elementary
Pauline Glenn Springs Elementary

Click here for the BEETS contest--Due December 3, 2018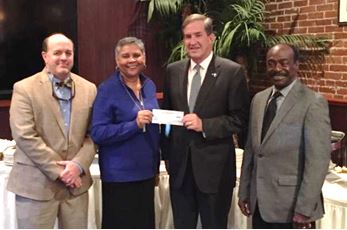 School Nutrition Association of South Carolina (SNA of SC) has been awarded a $100,000 grant aimed at obtaining more local foods into school cafeterias around the state.
The School Nutrition Association of South Carolina is receiving the implementation grant through the South Carolina Department of Agriculture in an effort to better connect school cafeterias and students with local farmers.
Receiving the check on behalf of the School Nutrition Association of SC: Todd A. Bedenbaugh, Immediate Past President; Joyce Lovett, Executive Director; Hugh Weathers, State Agriculture Commissioner presenting the check; and Leon Williams, President
click image to view